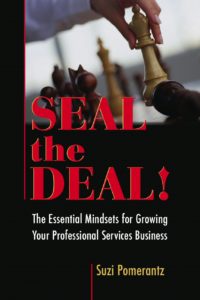 Below are raves for the book Seal the Deal, which you can purchase multiple ways:
Rave Reviews!
More than fifteen 5-star reviews on Amazon.com! Read them here.
Peer Resources Network (www.peer.ca) lists Seal the Deal as one of their Top Coaching Books.
choice Magazine (www.choice-online.com) reviewed Seal the Deal and calls it a "must have tome for any entrepreneur".
"Many great coaches and consultants have the dedication, education and experience needed to help others.  They are just missing clients!  Seal the Deal shows you how to solve this problem and helps you turn great talent into a great business. This is an important book!"    — Marshall Goldsmith, America's pre-eminent executive coach and author of 22 books on leadership, including What Got You Here Won't Get You There
"Seal the Deal is a cogent, coherent and comprehensive approach to business development. Don't miss it!" — Ken Blanchard, Co-author The One Minute Manager and Leading at a Higher Level
"Seal the Deal, more than a traditional book, is a series of powerful coaching sessions dealing with a big breakdown that many excellent coaches and consultants face today: they don't know how to sell their services to organizations. Suzi Pomerantz not only knows, she can also coach us so we can learn that critical ability." — Julio Olalla, President, Newfield Network, Inc.
"I've experienced the system personally and can say that the "Seal The Deal Formula" belongs in any professional's chemistry kit." — Mike Jay, Author of CPR for the Soul and CEO, B-Coach Systems
"With Seal the Deal, Suzi Pomerantz masterfully guides new and experienced professionals alike to grow their business to the next level. Suzi reminds us that selling is not about being inauthentic, it's about clear, honest communication and cultivating win-win relationships." — Karlin Sloan, Author of Smarter, Faster, Better; Strategies for Effective, Enduring, and Fulfilled Leadership
"Seal the Deal is packed with worksheets, templates, personal action plans and homework action steps –– just what anyone who sells services or ideas needs to build or transform a successful business." —Agnes Mura, MA MCC, Founder of PCMA and Author of Ten Themes and Variations for Postmodern Leaders and Their Coaches
"Have you ever wanted to "eavesdrop" on a highly successful coach who is sharing words of wisdom?  Well, in Seal the Deal, you get to do just that when you follow the conversations between Suzi Pomerantz and several of her coaching colleagues. I've known Suzi for many years and she has never failed to amaze me with her intelligence and skills as a coach.  This time she graciously shares her knowledge, experience and best practices as she helps professional services providers to sidestep the pitfalls and mistakes most beginners (and even seasoned practitioners) make in networking, marketing and selling their services.  There's a wealth of information with strategies, tips, tools, powerful questions, checklists and even a 10 step plan to follow.  It's all just waiting for you to implement.  Am I a Raving Fan of Suzi and Seal the Deal?  Absolutely!" — Syl Leduc, MEd, MPEC, Certified Executive Coach and Leadership Development Strategistwww.TurningPointLeaders.com
"If there ever were an Oscar given for "Super Coach," Suzi Pomerantz would be my nominee. Her book, Seal the Deal, is a masterful production and destined to become a classic for any executive or personal coach. Not only is the networking, marketing and sales content of the book superb, but also watching her coaching technique throughout the book adds incredible value to any coach practitioner. Two thumbs up on this one."  — Steve Gladis, PhD,  Author of 11 books including Survival Writing for Business and The Journey of the Accidental Leader.
"Over the years I've discovered that you can have the best products and services in the world, but if you don't have a plan and tools for building your business with your key clients and referral systems, you will remain an unknown commodity. Seal the Dealdemystifies networking, marketing and sales – and most of all will boost your confidence to go after the clients you really want to work with.  Seal the Deal is destined to be a classic – it's what everyone needs to build a successful business." —Judith E. Glaser, CEO Benchmark Communications, Inc. and Author of two best selling business books – Creating We and The DNA of Leadership
"In reading Suzi Pomerantz' book I feel like I am participating in a Master Mind group or in one of her teleclasses – and I'm the center of attention. Everything that Suzi has to say about networking, marketing and sales relates directly to me and my life as a coach and consultant. I also learned quite a bit about how to get out of my own way – I wish I had her book 40 years ago when I first began consulting and coaching!" —William H. Bergquist, PhD, President of the Professional School of Psychology, Author of 42 books, including Executive Coaching: An Appreciative Approach.
"Entrepreneurs looking for a way to differentiate themselves in an overcrowded marketplace have a new handbook, and it's needed by the many service professionals who soon realize that substantial industry expertise and impressive talent are simply not enough. In Seal the Deal, Suzi Pomerantz takes talented entrepreneurs behind the business-building curtain and gives them a six-figure formula for success. By teaching the reader how to use marketing, sales and networking in strategic concert, and how to weave individual success strategies into a comprehensive, proven success formula, Seal the Deal empowers entrepreneurs with a logical and manageable system for substantial growth." —Jennifer Kalita, Entrepreneurial Consultant to the National Association of Baby Boomer Women, Author of In Business & In Balance™.
"I started my consulting/coaching company three years ago, after 20 years of quota-breaking sales and management for Fortune 100 companies like GE and McGraw-Hill. I have been in almost any sales situation that is possible and find myself awed by Seal the Deal. This book offers incredible real-life situations and the solutions we all need when we are selling our own services. Professionals of all kinds will greatly benefit by reading this book and applying the selling solutions. Seal the Deal will greatly increase your revenue through improved confidence. After reading it, I signed my first six-figure client!"  — Nancy McCarthy, President of DC Rainmakers
"If you are a professional services provider, here is an offer you can't refuse. In her ten-step model for growing your business, Suzi Pomerantz shows you how to network, market and sell as a natural act — a game that you can play and win and have fun while you're doing it. Reading this book is like having Suzi as your personal sales coach, while you follow her roadmap and dramatically expand your business in a systematic and sustainable way. Seal the Deal is the real deal! — Don Arnoudse, Executive Coach and founder of The 2nd Half
"Seal The Deal is a great resource for new and experienced coaches, consultants and others! I found the straightforward approach that Pomerantz used to share her considerable wisdom and experience to be very effective. It can reduce the learning curve for anyone that wants to make a difference and make money. I highly recommend that others read her book and buy one for someone else that would benefit from it as well."  —Beverley Alridge Wright, President, Wright Choice Group
"In Seal the Deal, Suzi Pomerantz takes the intimidating world of networking, marketing and sales and teaches simple, real-world, road-tested steps for how to integrate these key elements of business development into an actionable, sure-fire business development plan.Networking made fun, marketing made simple, and sales demystified…Seal the Deal is a winner!If you're looking to build a prosperous coaching practice while also making a difference in people's lives, you have to get this book!" —Felice Wagner, Esq., CEO, Sugarcrest Development Group
You probably receive many thank you letters, but I just want to say thank you for a clear and well structured book :"Seal the Deal". While I am a consultant, I have been on Coach training, read many books on selling etc but the golden grail escaped me time and time again, until now! In fact I have done an in-depth study on the differences between selling products versus services, multilevel marketing and professional services. This book brought it all together! Thank you!  — G.O.
Your book in addition to the teleclass definitely took the mystery out of marketing for me – in a big way. It is so reassuring to find out that business development can be a systematic process. I now actually look forward to marketing myself and don't dread it as I did before – thank you!  –T.F.K.    
"Suzi's book is a delight in that it's practical, personal, adaptable, and makes marketing friendly and flexible. I have recommended it to my student Global Executive Coaches at Advantara Global Institute's programme, and they have really enjoyed transforming their perceptions of marketing and sales by using it. As a coach and colleague, Suzi is generous and helpful both on a personal and a professional level, in my experience. I welcome further opportunities to collaborate with her and recommend her to others. First, I recommend you get the book and then call Suzi!" — Hannah S. Wilder, MA, PhD, MCC, MAC, CGEC www.Advantara.com
Thank you for writing the book. I teach for the Hudson Institute and your book is just what budding coaches need. I, after a dozen years as an executive coach, also found a lot of value. Take good care, Sandy
I am writing from Abuja, Nigeria.  I would say; your book Seal the Deal brings solutions to my problems. I just got a job as a business development staff in an IT consulting firm, truly i've not done business development in my life before.  But i believe i can learn to be excellent at it with your advice and support. Maybe I'm in a hurry to master the art because much is being expected of me at the moment. i've being given a 2-week period to read your book and then do a presentation on proposal development, sales and marketing.
Seal the Deal: A Must Have!  I strongly recommend, Seal the Deal, a book written by Suzi Pomerantz, an innovative leader for building your coaching business. Suzi's book is practical, insightful, and right on target in helping all of us get on a plan to expand our coaching and consulting opportunities. Suzi, THANK YOU for taking the time to write your book. It's great. —Eva
— Now let's talk about Seal The Deal! I'm on page 150 and still loving it. I have my 30 second commercial, and I just love ALL of your wisdom. Great tip sheet: Typical Objections and responses. To my surprise, the Telecourse Sessions are a terrific source of information. It is a very creative technique (possibly you invented it) of being part of a conversation that I truly feel is REAL. You really did a wonderful job of editing a composite of conversations you've had over the years to just one (trio) conversation. Without the Telecourse Sessions, you're book would get a solid B+. With the Telecourse Sessions your book gets an A+ to INFINITY and beyond!!!!!  — Bob
Suzi: I love your book!  It comes at a great time for me.  I am in the middle of Alex Madossian's teleseminar course.  Your book shows me how I can use teleseminars to bring my writing to life.  Also, I am always looking for new clients.  You've given me some great ideas in your book.  I've been using the worksheets, and they are very helpful. I wrote a review today, and will post it on www.CommonSenseGuy.com .  Congratulations on a great book. All the best, Bud
Suzi,  I am loving the book, it's terrific.  Regards, Chuck
Hi Suzi, I'm reading your book and enjoying it… great kudo's to you.  I will be requesting the worksheets from the website you mention in the book.  Our agency is going through some strategic "leaps" and the whole networking, marketing and selling convergence is exactly what we are trying to figure out. Many thanks for your wisdom.  — J.F.
Suzi:I just finished reading your book last evening on my flight from California to Portland Maine. WOW! Well done. I am very impressed with the amount of usable information, the interesting format and all the excellent adjunctive information and Templates. I would love to talk to you more about it. I have some ideas and thoughts I would like to share with you. Again congratulations. A magnificent book! — Sari
Suzi Pomerantz has written a powerful book filled with practical, useful strategies to build your business and have FUN at the same time!  My coach buddies and I are studying the book together and support each other in our own MasterMind group (an idea we found in the book, "Think and Grow Rich"). –Penny H. Kowal PhD ACC
Business Development Blueprint for Coaches and Lawyers

, November 7, 2008

Are you a coach or lawyer struggling to attract the right clients in these difficult economic times? "Seal the Deal!" by Suzi Pomerantz is a tremendous resource to help you focus all of your networking, marketing and sales initiatives.

I'm a consulting psychologist and executive coach in the San Francisco, California Bay Area specializing in helping companies and law firms assess, select, coach and retain emotionally intelligent leaders and lawyers. A lot of my marketing efforts have been more passive (article writing, website, media interviews etc.). "Seal the Deal" got me to change my mindset to spend a lot more effort in these tumultuous times on sales.
I love Suzi's coach approach to relentlessy set up appointments with potential clients. I am also fully supportive of her high level of professionalism regarding having the confidence to be appropriately paid for your consulting and coaching services and not offering free "sample sessions".
I have been recommending "Seal the Deal!" to many of my executive coaching and leadership development clients. My clients also report that Suzi's sage advice is helping them achieve higher levels of success.
"Seal the Deal!" is the perfect antidote to feeling stressed out about the economy and focusing your energy more productively on getting new business. Suzi's voice goes with me now whenever I make a sales call!       —Dr. Maynard Brusman, Consulting Psychologist & Leadership Coach, Trusted Advisor to Law Firm Partners
EXCELLENT- easy read- shows you how – practical – grow your business tool!, February 1, 2009
Ms. Pomerantz quotes many of the greatest business minds and business books of our times. She practises what she preaches and has the proof that it works – her business is booming! This GREAT piece of teaching/reading knowledge is one for you to pick up and share. What an excellent business book to use as a total teaching tool for ourselves, or a sales team or share with your peers. What a refreshing change, especially in these economic times! It's like going to a class, but on your time, with an excellent, learned professor, who wants to share all their knowledge and experiences. A prof that is a lot of fun and can get anything across to you – You know the kind – you just never want to miss their class!
The author starts you off by assessing YOUR needs! Go figure- she actually has you assess your needs, and then helps you help yourself throughout the book! She makes this easy to read piece a way for you, as she shows you PRACTICAL ways to do it, grow and develop in areas of relationship building, sales, contacting people (the dreaded cold calls, which to her are warm and fuzzy ones!) administration, collaboration and much, much more, that YOU need to grow your business or your sales structure and teams.
You don't have to go over things you're already good at though, she has it sectioned off in course chapters, so cover just the essentials that you really need to work on, that's also why you need to do the assessment at the beginning, and you can go back and forth between the lessons too!
Ms. Pomerantz delivers the right ways of getting relationships with clients, and even competition, on the right track – collaborating, to get you the positive, long term results we all need, especially in the economic times we are in. I really have to say, this is not just an good book, it's an EXCELLENT Teacher!
I recently joined a "Seal the Deal" book study.  We are on Chapter 6 and I already see results.  I have made more calls, set up more meetings and taken more focused action in my sales cycle in the last 5 weeks than I have in the last 4 months.  It's all much easier than I thought it would be.  Suzi has a great way of coming back to the point at hand and clarifying the tasks necessary as well as the helpful mindsets for each situation.  This is all much easier and more fun than I thought it would be.  ~Dru Jackman, Sane Solutions by Dru,
Certified Coaching, Consulting & Training, ACE Licensed Seminar Leader, www.solutionsbydru.com
Ms. Pomerantz,
I wanted to drop you a quick note of thanks for your Audio series "Rainmaking Made Easy". I found the material to be both entertaining and informative. I found your no nonsense, common sense approach very refreshing.
Best Regards,
Dennis K. Baker
Chief Executive Officer
The Executive Suite, LLC
www.theesuite.com/
Seal the Deal is full of useful and thought provoking material. Each time I read the book I found pearls of wisdom.  I especially enjoyed reading the information on client meeting interview questions, follow-up strategies, along with examples of proposals. Once you get to the point of understanding this book's systematic process and approach then you can customize the concepts to what best suits you within your own line of work.
~Pamela Dunn, President of Executive Coaching International