Solutions To The 5 Biggest Mistakes Companies Make with Social Media
How can you make Social Media work for your company? This e-book will give you 5 practical suggestions to easily gain unfair advantage in the marketplace.
$9.97 as digital download (e-book) by clicking Add to Cart button below
$14.00 as paperback (available through Amazon.com at THIS LINK)
NEW!  NOW AVAILABLE FOR PURCHASE AS PAPERBACK BOOK! CLICK HERE!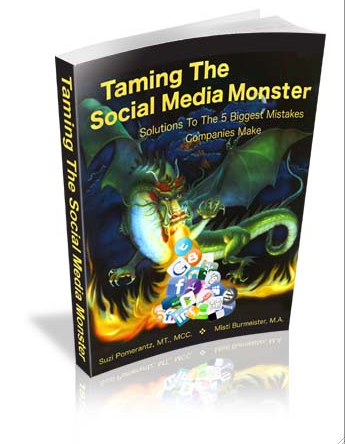 Here's what you'll learn:
The 5 critical errors most companies and leaders make with regards to social media and what to do about each one
How to embrace change and create a unified strategy for your organization
Why it's not enough just to have an account, profile or page on each of the main social networks
How to align your social media involvement with your corporate values, brand, and overall objectives
Using social media to create informative conversations with your consumers and stakeholders
How to capitalize on customer enthusiasm
The risks your company faces if you lack a social media policy and implementation of tools and systems to monitor and enforce that policy
The importance of educating managers and employees regarding use of social media for the benefit of the organization
Leveraging social media as a research tool to gain up to the minute information about your industry
The difference between advertising and the free media exposure available via social media
Here's how you'll benefit:
Social media usage is not just for teens and celebrities.  Explore how social media might benefit your organization in handling a crisis, contribute to marketing, or expediting broad-reach communication needs. Leverage relationships on social media to find new vendors, suppliers, and talent. Create advocates, agents, and raving fans for your company, product, or service. Gather business intelligence on competitors and set the stage for strategic alliances.
Praise for Taming the Social Media Monster:
"A great overview of the social media challenge many businesses are facing. A smart, well-researched, and easy-to-read guide for anyone fumbling around in the new world of social media marketing and community-building. If you haven't been able to 'get your head around' this new way of communicating and connecting with your potential customers, reading this guide will point you in the right direction."
~Ken Kesslin, President, Kesslin Associates
"As the CEO of a leadership development firm I am always looking for great resources for my clients. As soon as I saw the critical errors and read these do-able, concrete ideas for managing social media I got very excited! Thanks for this fantastic resource. Just what we need right now! A simple, clear, immediately useful guide to the way we interact with consumers in a new era of two-way communication. Examples like the U.S. Army can help us reduce our fear, and realize it's not a monster after all!"
~ Karlin Sloan, CEO, Speaker, and Author of Smarter Faster, Better and Unfear; Facing Change in an Era of Uncertainty.
"As a veteran of the social media industry – and it does move fast – I was still able to gain some valuable gems out of this book. Whether you are new to social media or an advanced marketer, this book is a must read. While most books on the topic are a heavy read, Taming the Social Media Monster, is quick, fun, AND entertaining. Pick up a copy today. You can't go wrong."
~ Shama Kabani, CEO, Speaker, and Author of the Best-Selling The Zen of Social Media Marketing.
"A must-read for business executives! While there is vast information on the spread of social media, most is hype, encouraging businesses to simply "jump on the bandwagon".  I work with many CEOs and find that many are skeptical of social media because of the hype.  Pomerantz & Burmeister provide a no-nonsense approach to finding solutions that fit and support your business strategy.  Read this and you'll be able to see clearly where you need to focus."
~ Lee Self – President, Renaissance Executive Forums
"Taming the Social Media Monster is a clear and concise discussion on issues and – most importantly – solutions on how to successfully introduce and integrate social media into your workplace.  A must have book for all businesses."
~ Dede Haas, Managing Director, The Unicorn Group
"Taming the Social Media Monster is a must read for anyone in business today. The book provides great insight not only into the power of social media, but the bottom line benefits it can bring to those businesses willing to invest in a strategy. In every chapter, the authors give you practical information, and easily implemented ideas and techniques. I plan to keep this book on hand, and use it as my guide to not only tame but master the Social Media Monster!"
~ Meridith Elliott Powell – Coach, Speaker, Author of 42 Rules To Turn Your Prospects Into Customers
"Very cool book. Concise (at 50 pages) and to the point on a growing important subject: Social Media. This is something CEOs might actually read! Made me think about what I was and was not doing that I should and should not be doing regarding social media."
~ Steve Gladis, Ph.D., CEO and Author of 15 books on leadership
Here's a sneak peek at what's in the new, 50-page e-book!
TABLE OF CONTENTS:
INTRODUCTION: Why We Must Confront The Social Media Monster    5
Chapter One: STRATEGY    9
CRITICAL ERROR #1: Lack Of A Unified Strategy    10
Generating Results Through Action Steps #1: EMBRACE CHANGE    14
Chapter Two: CONVERSATION    16
CRITICAL ERROR #2: Lack Of A Unified Strategy    18
CASE STUDY: While You Were Offline    19
Generating Results Through Action Steps #2: ENGAGE    20
Chapter Three: EMPLOYEE MANAGEMENT    23
CRITICAL ERROR #3: Banning The Use Of Social Media    24
Generating Results Through Action Steps #3: Engage Employee Passion in Social Media Policy    25
Chapter Four: POLICY AND OVERSIGHT    27
CRITICAL ERROR #4: Lack Of Clear Social Media Policy    28
Generating Results Through Action Steps #4: CREATE A POSITIVE POLICY    30
Chapter Five: TRAINING    32
CRITICAL ERROR #5: Lack Of Training And Resources Dedicated To Branding And Relationship Management Through Social Media    33
Generating Results Through Action Steps #5: TRAINING    34
RECAP: Action Steps To Tame The Media    36
CONCLUSION    39
MEET THE AUTHORS    43
OTHER LEARNING MATERIALS FROM THE AUTHORS    44
SOURCES AND RECOMMENDED READING LIST    49
INTRODUCTION: Why We Must Confront The Social Media Monster
Like the magic dragon in a fairy tale, social media has grown exponentially large in a very short time. Facebook, Twitter and LinkedIn, popular platforms people use to connect with one another socially and professionally, are now household names. If you don't know a tweet from an email, or a friend from a fan2, it will benefit you and your organization to learn the basics. What we affectionately refer to as "the social media monster" is quickly taking over the relationships you have with your employees and customers, vendors and stakeholders, media and prospects.
The Nielsen Company, in April 2009, found that Americans spent 73 percent more time on social networking sites than in 2008. Unfortunately, the huge popularity and voracious hunger with which people follow social media has some business leaders scratching their heads, or running for cover.
Time management, security issues, reputation risk, and the complicated logistics of developing a strategy for utilizing social media are executives' main concerns.
"My employees spend an exorbitant amount of time on social media," complains a Fortune 500 executive. "How do I get them to stay focused on work while they're in the office?"
"We have real security issues to be concerned with," notes a high-level military leader. "Social media is an animal I'm not sure how to cage!"
A government contractor CEO observes, "We need to create some sort of system for dealing with social media. Can we prove that the potential benefits of a social media strategy outweigh the risks?"
As with all forms of communication, social media can be a powerful tool for both employee and customer engagement. It can also become the cause of much debate and consume the precious time of all those involved.  The concerns of high level leaders are valid, and the enthusiasm of those employees already utilizing the various social media platforms may seem, to the less tech-savvy executives, to be disconnected from the core mission of the business.
Social media resembles a mystical monster more than a controllable tool. How does a company tame the monster and tap into the huge market social media reaches? This e-book is designed to answer this question and address the issues companies face when trying to leverage social media and harness its colossal power.
While some companies reject the notion of social media altogether, other companies dive in headfirst without fully recognizing the consequences. "Companies identify social media as a key communications strategy, but few are adequately addressing concerns regarding corporate security and reputational risk," said relevance management specialist Russell Herder in a 2009 study.
The research reported that "more than eight in 10 executives said they have concerns about social media and its implications for both corporate security and reputation management. Yet, surprisingly, only one in three said they have implemented social media guidelines and only 10 percent have undertaken related employee training."
While the risks are clear and present, the advantages social media offers are even stronger when approached from the right perspective.  For example, there is a proven correlation between financial performance and social media engagement. According to a study of the usage of social media among Inc. 500 companies by the Center for Marketing Research at the University of Massachusetts Dartmouth, "the 2009 results confirm that the fastest growing private companies adopt social media marketing initiatives at much higher rates than other companies."
An effective social media strategy can help you:
Promote your brand
Get qualified feedback
Improve search engine optimization
Recruit new talent
Engage with customers
Obtain valuable market research for free by listening to what customers are saying in social media outlets.
So, can you leverage the power of Twitter, Facebook and other social media platforms in a way that aligns with and relates to your business strategy?
Can you utilize social media in a way that keeps employees focused and engaged on the mission and work of your organization?
Is it possible to increase productivity, employee engagement, ensure proper company branding and get the most out of social media?
Can you create clear policies and strategies for communication regarding the use of social media so that employees understand the implications of such resources?
Absolutely!
Throughout the following five chapters, we address those important questions and outline the most common challenges companies face with social media. Beyond simply defining the challenges, we also outline clear and efficient ways of dealing with these top five challenges.
Soren Gordhamer, author of Wisdom 2.0 writes, "Social media is helping to forge a new era in business transparency and engagement, creating both new challenges and opportunities. Companies now face a clear choice: wall themselves in and become increasingly controlled and hidden, or use social media and other means to reveal their human side, welcome transparency, and forge new relationships with their customers. The old game is undoubtedly over, and the question now is, 'What can businesses do to transition and succeed in this new era?'"
Effective use of social media platforms has the potential to update and revolutionize your company's systems of communication, marketing and management. In facing the social media monster, you have nothing to lose and much to gain in productivity, customer satisfaction, and a healthier, happier organization.
Within this e-book you will find the tools, steps and resources necessary to tame the monster and put social media to work for your bottom line.