Managing your online presence is an important piece of personal branding in today's Google-driven world. Now, using a tool I just learned about called Vizibility, you can actually curate the top 5 links of your verified Google search results in a way that gives you control! Want your first five links to be your website, your Facebook page, your book listing on Amazon, a news article about an award you won, and a YouTube video you posted?  Now you can create just that within your Vizibility link!  Typically, Google will come up with whatever their algorithms decide in that moment is most relevant.  See the examples below.
Here's a screenshot of my Vizibility results, where I dictated which links I wanted to show in the top 5.  Compare that with the Google links below.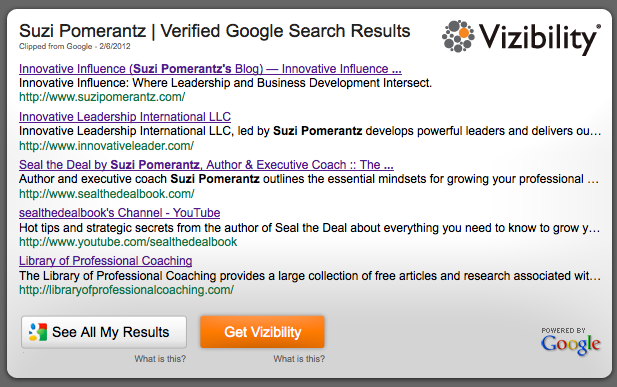 Google search results for "Suzi Pomerantz" showed my Google+ account first, then images, THEN these 5 links that Google decided are the top 5, not necessarily the ones I'd choose to show up in the top 5: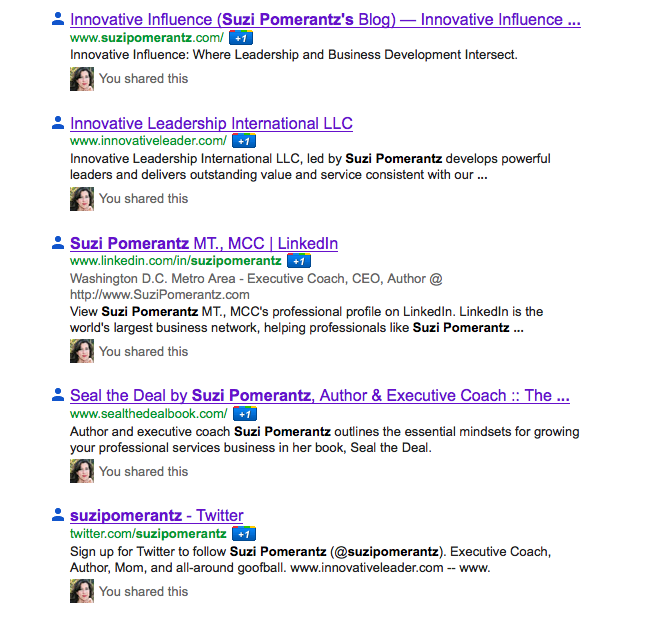 Chances are, the same thing is happening to you.  Go Google yourself and if what shows up in the top 5 are not the things you'd want there, especially if they are not even related to you, then Vizibility  may be a tool for you!  It's got a free option, as well as paid options.  And, they provide you with your own QR code, too!  You can use the QR code on your email signature or business cards, and that allows folks who have a QR scanner in their smart phone to pull up your top 5 Google listings. Here's mine, if you have a QR scanner and want to test it out:

Why does this matter? Well nowadays, if someone is about to meet you, they are likely to Google you to learn a bit more about you prior to meeting you (or considering hiring you for anything). If you can direct them to just the Google results that are most relevantly YOU, that would allow you to ensure that they are seeing the best of what your online presence has to offer.  Of course, they can still go directly to Google and see what Google shows them, but particularly if you have other professionals who share your name and often get confused for you on Google searches, this will help you ensure that folks are seeing you and not your doppelganger.