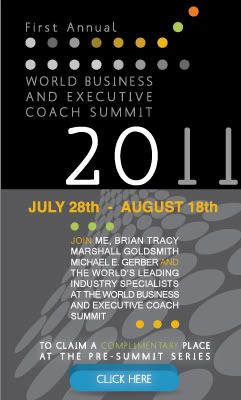 I thought you would appreciate a heads up about the World Business and Executive Coach Summit to be held online starting July 2011. I was invited to be one of the presenters, and the guy who is putting it all together, Ben Croft, is an innovative genius when it comes to marketing from an ethical and massive value perspective.
No hype, No fanfare just all the major thought leaders in the Business Coaching Industry will be gathering together for one groundbreaking event.
In the first 48 hours alone from registration opening, over 600 Business and Executive Coaches registered. Were you among them?
You can register now for the FREE pre-event series of no-pitch talks, strategy sessions, presentations and high level content from Brian Tracy, Dr. Marshall Goldsmith, Michael E. Gerber,  and so many more by clicking the link in the image above.
It is what the industry has been waiting for…Looking forward to having you join us!