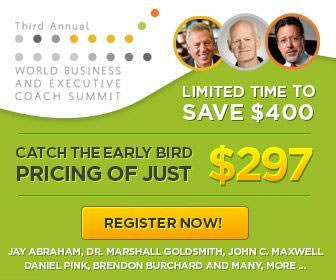 Only FIVE days left! Here's your final chance to save $400.
The World Business and Executive Coach Summit (WBECS) begins on June 12th. The complimentary pre-summit taster series has met with rave reviews, with over 1,000 testimonials already submitted by coaches across the globe.
It is now time to turn attention to the main event. Details here: https://modernmethods.infusionsoft.com/go/2013ticket/sp1
The aim of the pre-summit sessions was to help you make an informed decision on buying a ticket.
There are very few companies in the world that give away as much complimentary content as WBECS does, they do so because they have a commitment to the development and success of the coaches across the world. You can probably feel their passion.
Now is the time to make a decision on whether you are committed to:
a) Your development as a coach.
b) The development of your clients.
Are you going to make the next 12 months the best of your coaching career?
Are you going to deliver new coaching tools and methodologies you didn't even know existed that skyrocket the results of your clients and take them to new levels?
Are you going to learn how to streamline y
our marketing and sales so you can focus your efforts on coaching clients to an exceptional standard?
Are you going to learn these skills from the industry's elite?
And finally, are you going to do all this and save $400?
If the answer is yes, then please purchase your early bird ticket here: https://modernmethods.infusionsoft.com/go/2013ticket/sp1
Highest quality of training for all levels
WBECS offers high standards of training for coaches of all levels, with specialist focus on growing your client-base, increasing referrals, improving your coaching skills and transforming your business by delivering significantly better results for your clients.
Specifically, the Summit is designed for coaches that fall into any of these groups:
*The Start-Up Coach: You've just begun your coaching journey and are looking to develop your coaching curricul
um, method of delivery, and marketing system.  At the Summit, you'll learn how to reach critical mass fast.
•The Break-Even Coach: You're at a point in your coaching career where losing a couple of clients means trouble, while gaining a couple of clients means comfort. You're looking at growing from being a good coach to a great coach. At the summit, you'll learn how to stop the 'feast or famine' cycle by learning how to deliver higher quality coaching, helping you acquire and retain clients more effectively.
* The Next-Level Coach: You've already built a successful coaching business, and now you want to leverage your experience and content. You are looking for advanced coaching skills that take your clients to the next level and in the process take your 6 and multi 6 figure income to a high 6 and 7 figure income.
When you register for a Full Event Ticket you gain access to the entire two-week Live Online Event PLUS recordings of every session to watch offline or download and watch offline. You also get all materials for each session that applies: including transcripts, audio, slides and you also will be able to network virtually inside the member portal.
Check out the full lineup and agenda here: https://modernmethods.infusionsoft.com/go/agenda/sp1
This is your last chance as the Early Bird Pricing Expires May 31st Register Now for Priority Access and Save $400
EXTENDED EARLY BIRD RATE BEFORE May 31st $297
REGULAR RATE AFTER May 31st $697
Who is presenting at WBECS?
The online coaching event of the year will be bring together the world's best coaching specialists and thought leaders to help drive the coaching industry forward, raise ethics and standards and improve the success rates of coaches both in your country and across the world.
Experts include:
Jay Abraham – Dr. Marshall Goldsmith
John C. Maxwell – Frances Hesselbein
Daniel H. Pink – Pam McLean
Brendon Burchard – Verne Harnish
Katherine Tulpa – Karen Kimsey-House
Mary Beth O'Neill – Damian Goldvarg
Ago Cluytens – Susan Meyer
Aileen Gibb – Hendre D. Coetzee
Andrea Lages – Howard Morgan
Andrew Neitlich – John Leary Joyce
Ann Betz – Joseph O'Connor
Barry Posner – Krishna Kumar
Brian Underhill –  Marvin Oka
Darren Robson – Myles Downey
Drayton Boyleston – Michael Bungay Stanier
Donna Steinhorn – Natalie Tucker Miller
Gary Henson – Patrick Williams
Grant Soosalu – Renee Freedman
Taki Moore
*CCE units for International Coaching Federation members
56.5 Hours CCE Units  =  30.5 Core Competencies and 26 Resource Development.
Available for pre-summit and Full Summit sessions. CCEUs can be earned through recordings although Any Core Competency session watched as a recording earns a Resource Development unit. Watched live it earns a core competency unit.
Complimentary Pre-Summit Final Week of May 2013
There is still a final last week of sessions from May 27- 30, which are all complimentary. These free sessions are perfect for you to get a taste of the high level of thought leadership from our industry.  There are five free sessions to attend this last week of May. Attend them here https://modernmethods.infusionsoft.com/go/presummit/sp1
We have a commitment to your development as a coach. Be sure to have a commitment to yourself too and join us for the Full Summit in June
Purchase your early bird ticket here: https://modernmethods.infusionsoft.com/go/2013ticket/sp1
If you have any questions at all WBECS team is on standby for you. Email ben@wbecs.com, sherrie@wbecs.com or nina@wbecs.com with any queries you have.
The team at WBECS has an absolute commitment to having a profound impact on the success of Business and Executive Coaches the world over. Please give them the opportunity to have a profound impact on your coaching success through their summit, if they don't you can ask for your money back.
Enjoy the final week or Pre-Summit sessions and I look forward to you joining us this year!