Although none of my articles are featured in this launch issue, I'm honored to be one of the many authors contributing to a new global digital publication, Me, Inc.  My author's page is at their website HERE.  You'll recognize other authors in the first issue such as Guy Kawasaki, Verne Harnish, Zig Ziglar, and Michael Bungay Stanier, among others.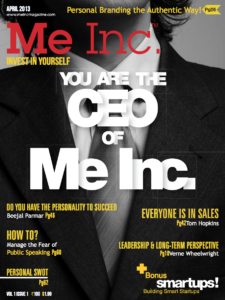 You can access the first issue here FOR FREE: http://meincmagazine.com/issues/april2013/
The magazine is also available on Magzter across Apple and Android subscribers.
More about Me Inc.
Here's what the publication says on it's website:  "Me Inc. is a magazine that uniquely positions its contribution to its reader along the line "If you work hard on your job, you can make a living. But if you work harder on yourself than you do on your job, you can make a fortune." – Jim Rohn, an American Business Philosopher
A holistic monthly magazine, Me Inc. publishes resources in the area of Personal & Professional Development, endeavoring to provide its readers access to resources that are Rooted, Practical & Experiential in real life. These resources are garnered and gleaned from Thought Leaders and Industry Experts who are accomplished writers too.
Me Inc. caters to Working Professionals, Entrepreneurs and Business Students, hard pressed for time, knowledge and access to resources, and are looking for self-paced learning opportunities. Me Inc. will be a platform for stimulating and enriching development through articles, videos, podcasts and webinars so that its readers achieve their Personal & Professional Goals."
It's a beautiful publication, packed with valuable insights.  Enjoy!
Update 4/18/13:  I missed it!  One of my articles did make it into the web magazine here: http://meincmagazine.com/personal_branding/How_to_Create_Your_Personal_Brand_in_6_Steps.html