I'm one of about a million bonuses offered for the launch of Dianne's new book, which is cool because that means a LOT of folks are promoting this book today and I'm in good company!  What it means for you is that you can get really great stuff for free.
I first met Dianne at the TEDxPotomac event this past May.  Then, I got to see her again at the Power Women Conference on September 1.  She's so great…down to earth, real, and committed to making a huge difference in the world.  That's why I'm supporting her book launch today.
Dianne's book was written to inspire you and bring you peace! And frankly, who couldn't use more of that?!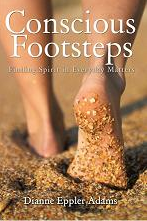 Conscious Footsteps: Finding Spirit in Everyday Matters by Dianne Eppler Adams is not a "how-to" book for arriving at a destination. It is a "what if?" book inspired by the author's deep, heartfelt search for life's greater meaning. Open this book to any page at any time and let it inspire your day!
You will discover insights to help you:
Open your awareness to Spirit's benevolent presence in everyday matters.
Expand your self-awareness toward enhanced self-acceptance and self-worth.
Embrace and enjoy your relationships.
Manage the waves of change with excitement, rather than fear.
Create a life that suits your values, your purpose and your passion.
Anticipate and navigate the times ahead.
WHAT READERS SAY:
Conscious Footsteps is a great book for people with busy lives and little time to read. Filled with Dianne Eppler Adams' unique insights about bringing Spirit into everyday matters, this book is great to open anytime.  Reading just a few thought-provoking pages will make you feel expanded and inspired.
~ Marci Shimoff, NY Times bestselling author, Happy for No Reason and Chicken Soup for the Woman's Soul
"It was a wonderful gift!  This book led me to life-altering answers to the deep and purposeful questions that I have had for so long.  It brought me more harmony, joy and fulfillment into my daily life."
~ Jill Lublin; International Speaker, Best Selling Author of Get Noticed…Get Referrals, Guerilla Publicity, and Networking Magic
"Each chapter is like attending a soul-inspiring event –a true treasure for those … open to finding themselves magically expanded … and intimately transformed." ~ Bill Bauman, author, Soul Vision: a Modern Mystic Looks at Life through the Eyes of the Soul
"Dianne has written an inspiring yet practical guide for daily living and for connecting to your own inner wisdom … [she will] challenge you to find purpose and meaning in your life." ~ Corinne McLaughlin, co-author, The Practical Visionary and Spiritual Politics
Conscious Footsteps provides insight and perspective for the contemporary spiritual journey … [it] will touch your heart and guide your soul!" ~ Gisele Terry, M.A., CAP, President, International Society for Astrological Research
Inspired by the author's deep search for life's meaning, Conscious Footsteps, Finding Spirit in Everyday Matters is a companion for finding Spirit in ordinary life. By seeing how Spirit manifests in your daily affairs, you can reframe and conquer any challenges. By posing questions that inspire answers – your own answers – it will awaken you to find love and peace even in the midst of turmoil. Open this book to any page at any time and let it inspire your day.
For over fifteen years, Dianne Eppler Adams, a certified astrological professional and practical mystic, has advocated living your bliss now by recognizing life's higher purpose. With a strong intuitive awareness of Spirit's guidance, she inspires others to live in alignment with their authentic selves. She is the author of the book, Conscious Footsteps: Finding Spirit in Everyday Life, and writes a popular New Moon e-newsletter, Spirit in Matters. www.consciousfootsteps.com
And if you buy the book today, there are loads of downloadable bonus gifts (including from me!) ranging from meditations, mp3s, videos, book excerpts, free consultations and more!
Enjoy!
This book is a treasure trove of practical, thought-provoking insights to practicing spirituality in each and every moment of our lives. I love Dianne's premise which forms the foundation for her writings throughout the book, i.e., Oneness, honesty and compassion in relationships, and the light of awareness as both source and destination of our journey. The quotes she's chosen to `set' each jewel are on point and great reminders of how universal this wisdom is; while her writings add sparkle and personal meaning, outfitted for everyday wear. As someone who's dabbled in astrology, I also really enjoyed the Appendix, in which Dianne advocates the role that astrology can play in our lives, beautifully exploring the vital topic of fate vs. free will.
~ Leslie, Amazon reviewer (5 stars) http://bit.ly/CFbook
It is a wonderful book that has stretched me beyond where I have ever allowed myself to go. It is deeply transformational, with a vision of life so richly alluring that I find myself looking forward to the surprising shifts in how life is lived, seen, and celebrated. Dianne is very personal in her stories and insights which readily ease into my own consciousness and life. I was listening to an inspiring talk last night and found myself going back to this book which so closely matched up with the rich insights being shared by the speaker. I love to keep the book open in front of me so I can browse its pages for another keen insight on how to be. It is a beautiful guide to experiencing life fully.
~ From an Amazon reviewer (5 stars) http://bit.ly/CFbook