It's worth reading the full article by Zenger and Folkman (Are Women Better Leaders than Men?) but I was particularly intrigued by the 16 leadership competencies and the data that compared male leaders to female leaders across those competencies.  They surveyed 7,280 leaders in organizations both public and private, government and commercial, domestic and international.
Specifically, at all levels, women are rated higher in fully 12 of the 16 competencies that go into outstanding leadership. And two of the traits where women outscored men to the highest degree — taking initiative and driving for results — have long been thought of as particularly male strengths. As it happened, men outscored women significantly on only one management competence in this survey — the ability to develop a strategic perspective (see chart below).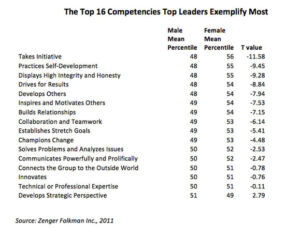 I'm curious…to what do you attribute these data, based on your own experiences?