You know when you discover a resource that feels like you entered a cave of buried treasure?  When I stumbled upon the HBR Ideacasts on iTunes, I had an embarrassment of riches moment like Daffy Duck in the 1957 episode Ali Baba Bunny by Warner Bros.
You know the one.  It goes like this: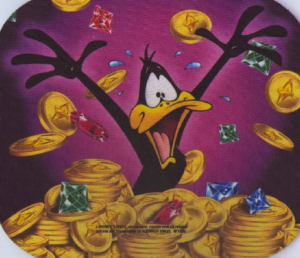 Daffy Duck, hitting Bugs on the head: It's mine! You understand! Mine! All mine! Get in there, down! Down! Down! (He is beating Bugs back into the tunnel) Go! GO! Go! Mine! Mine! Mwahahahaha! (He stops and runs towards the treasure)
Bugs Bunny, peaking out from the dirt: Eh, what's up, Duck?
Daffy Duck (rubbing his hands, staring at the treasure, then diving into the pile of gold and jewels) joyfully declares:  I'm rich! I'm wealthy! Yahoo! I'm comfortably well off, woo hoo!
Yeah, I had THAT moment when I found these 288 podcasts from Harvard Business Review!  I know you'll enjoy them!  Maybe you'll even have a Daffy Duck moment, too.  🙂