I'm honored to be collaborating with Ian Brodie and Ben Croft and we have
some big plans that will help executive coaches worldwide. You may have
already seen this news if you're on any of Ben Croft's email lists, but I'm
excited to share this with you just in case you have not yet marked your
calendar or signed up for the October 4th totally free webinar: THE REFERRAL
MASTERCLASS (details of what we'll cover are below)…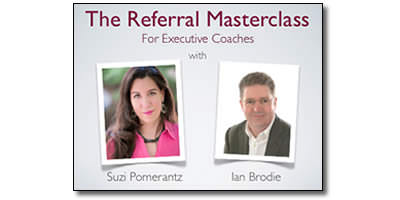 THURSDAY, OCT 4…offered twice so you can find a time that will work for
you!
Here's the info that Ben sent:
I want to tell you about an exciting new resource we are creating for
Executive Coaches, and more specifically, Executive Coaches who are looking
for help with marketing.
My question to you as an Executive Coach is: "What is the number one
challenge you are facing in your coaching business right now?"
If you're like most executive coaches, your greatest challenge is not
delivering wonderful work for your clients – I'm sure you've got that one
nailed. It's not keeping up with the latest advancements in coaching,
leadership, team building, motivation or indeed in any other area you
assist clients with. There's a big tick in the box for that one too.
My bet is that your biggest challenge is securing new clients.
And that's the challenge that's inspired us to create an exciting new
initiative: The Executive Coach Hub.
The Executive Coach Hub will be the world's number one source for the very
best information to help you attract and win clients and make the 'empty
pipeline' challenge a thing of the past. The Hub will also continually add
to a library of knowledge, tools and resources brought together to enable
you as an Executive Coach to focus on doing what do best, coach your
clients to great results.
The Hub won't be launched formally until early 2013, but we want to begin
by giving you a complimentary and completely PITCH-FREE taster of what you
can expect through an exclusive live masterclass webinar.
The session will be focused on THE most powerful strategy you can use as an
Executive Coach to get new clients fast. Referrals.
On Thursday 4th October, I invite you to join Suzi Pomerantz and Ian
Brodie, two of the world's leading marketing for executive coaches experts.
They will give you the lowdown on what really works and what doesn't to
generate a steady stream of referrals to your target clients.
We have 2 sessions planned with the same content so you only need to attend
one, we simply want to ensure we are catering for the Global audience.
You can sign up for the free webinar by clicking here:
Session 1 – Date: Thursday 4th October 2012
Los Angeles time: 7am
New York time: 10am
London time: 3pm
New Delhi time: 7:30pm
Singapore time: 10pm
Sydney time: 12am
Register here: https://www3.gotomeeting.com/register/371358038
Session 2 – Date: Thursday 4th October 2012
Los Angeles time: 2:30pm
New York time: 5:30pm
London time: 10:30pm
New Delhi time: 3:00am (5th October)
Singapore time: 5:30am (5th October)
Sydney time: 7:30am (5th October)
Register here: https://www3.gotomeeting.com/register/193512310
Following the session you will have the opportunity to become part of the
project build, joining us for a live brainstorming session that will
immediately follow. If you are short for time you can you can simply drop
off, but by contributing your input pre-launch, you will ensure that The
Hub will be tailored to provide you with the most value possible, based on
your own specific needs and interests.
MORE DETAILS:
The Referral Masterclass

We all know that referrals can be your very best source of new business. But how many of us are getting the number or quality of referrals we need?Often we're not sure quite how to ask for a referrals, or we don't want to damage our relationships, or we ask but nothing happens.In this exclusive webinar executive coach marketing experts Suzi Pomerantz and Ian Brodie will be "spilling the beans" on the strategies that work today to maximize the number of high quality referrals you get – while strengthening your relationships with the people you ask.They'll cover:
– The mindset you need to have when asking for referrals to get referrers "on side" and happy to help you

– The one tool you MUST use to make referrals easier and more effective

– How to get the timing right to maximize your chances of a referral

– The type of wording to use to ask for referrals respectfully and enhance your relationships

– How to become a "referral magnet" to attract referrals without having to ask

– How to get referrers to see referring you as a win for them AND a win for the person they refer you to

– The "great referral secret" that turns winning business from an ad-hoc activity into a repeatable process

The last half of the webinar will be your opportunity to get in on the ground floor of the upcoming Executive Coach Hub by providing your feedback to ensure this new initiative will provide you with the most valuable possible resources based on your specific needs and interests.
See you on the webinar,
Ben, Suzi and Ian.
| | | | | |
| --- | --- | --- | --- | --- |
| | | | | |