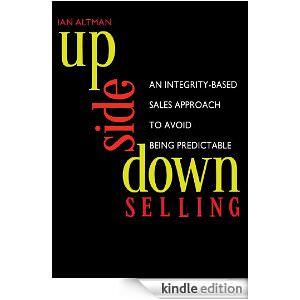 My dear friend Ian Altman just launched his new book: Upside Down Selling, An Integrity-bases sales approach to avoid being predictable. On June 20th, you will be able to get the Kindle version on Amazon.com for FREE.  This is a one-day offer.  He is trying to drive his Amazon rankings (which is measured by the hour). So, please download from Amazon between 11am and 12pm Eastern time on Wednesday. After that time, you can still purchase it knowing that half of the proceeds benefit the Network for Teaching Entrepreneurship (NFTE.COM), a great non-profit that teaches entrepreneurship to low income schools around the US and World. This is not one of those books that tries to demonstrate its value by weight. It is concise and engaging, and the bonus chapter shares a real-world case study of a company that put Upside-Down Selling to work.
Don't take my word for it, here is what others have said (there are more reviews on Amazon.com).
Praise for upside-down selling:
"I know Ian and have seen his work. He identifies problems, finds solutions and saves clients money. That formula is at the heart of his new book, Upside-Down Selling. This quick read will help you and your team find and "bring online" the problem solvers in your own organization…team members who can increase both the top line and bottom line results…not by selling, but by solving."
Donald J. Hurzeler
Former CEO Zurich Insurance
and author of The Way Up
_________________________
"If you don't have the opportunity to see Ian Altman live, this is the next best thing!  His energy, enthusiasm, and most importantly, his real-world content comes to life in this simple, but powerful book.  It not only informs, it involves the reader from start to finish."
Robert L. Jolles
President, Jolles Associates, Inc. and
best selling author of Customer Centered Selling
_________________________
"Let's just cut to the chase folks. If you're in sales and ready to stop wasting your time with fruitless "work", then you need to read this book. If you're looking to give your team a much greater vision of sales success, networking, and referrals– you need to read this book. And finally, if you really just want to sell more stuff– you need to read this book. Ian's language and message in Upside Down Selling is clear, concise, and exactly the shot in the arm you and your sales staff need right now."
Marcus Sheridan, The Sales Lion
Author of Inbound and Content Marketing Made Easy
_________________________
"Ian's Issue/Impact/Importance (I-3) has completely shifted our mindset. For every business development opportunity, we now assess if the client has conveyed I-3 surrounding the requirement which ensures we focus on the right opportunities."
Marissa Levin
CEO Successful Culture and
author of Built to SCALE
_________________________
"Upside-Down Selling genuinely reflects Ian's approach to business development. His focus on the process of opportunity development is important and valuable. But his ability to help each of us recognize and utilize the skills and traits we already possess to drive success and growth in our business is the true gem of his message. Reading and implementing the strategies in this book will be time well spent. This isn't something that's intimidating to pick up again and remind myself of Ian's messages to keep me on track."
Tim R. Hawkins, CPA,
President, LT Business Dynamics
_________________________
"Ian Altman has written a powerful, must-read book for anyone who wants a practical, comfortable, integrity-based approach to driving unparalleled growth in business. Designed to comfortably engage your whole team, this book is filled with specific actions for anyone who wants to secure dramatic and incredible success. He raises the bar for targeting and winning business without gimmicks. Ian helps you identify, evaluate, and convert opportunities into clients. From his signature material on "issue, impact, and importance" to his acronym D.E.C.I.D.E., this book is packed with accessible, memorable, results-based mindsets and steps for any business leader seeking outrageous growth for his company."
Suzi Pomerantz, Executive Coach
and Author of Seal the Deal
_________________________
"Ian has written a simple to read, easy to adapt, and practical book that will help you and your team solve client problems. The powerful concept of focusing on delivering value by solving client problems, illustrated with easy to understand examples, and practical steps you can put to use immediately, will be invaluable to you if you're interested in growing your business. If you want to stand above and apart from your competitors, you must read this book and you'll be on your way to increasing your company's revenue!"
Les Smolin, CEO Executive Leadership Forum &
Group Chairman, Vistage International, Inc.