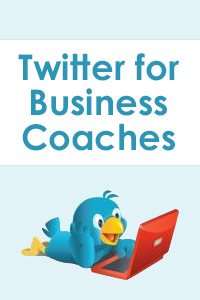 The Tool That Makes a Difference!
Are you a coach working in organizations or with leaders in need of a basic tutorial about social media?
Do you have the Twitter jitters, or just want to figure out how to Twitter better?
Buy it now with: You can now, for a limited time only, get immediate access to Suzi Pomerantz's Twitter For Business Coaches – Get Going Now Tutorial (audio that can be downloaded onto your computer, phone or other mp3 player and a rich, content-filled resource guide with links, tips, and the basics on navigating Twitter for success in your coaching business) for only $15! (The teleclass sold for $79, a savings for you of over 75%!)
Are you new to Social Networking and Online Tools like Twitter?
Have you already signed up for Twitter, and now you're just trying to figure it out? Have you given up on Twitter because it's not intuitive and you just don't get it?
Social media may be the next frontier, but there are real hurdles and pitfalls that stand in the way of savvy coaches and leaders. Not only are there the general issues of learning new technology and handling privacy concerns, but with all the platforms to choose from, how do we know when to use Linked In versus Facebook, or Twitter versus Plaxo? It can be overwhelming!
In ANY Economy, the Critical Factor in Getting and Keeping Coaching Clients is Networking from a Giver's Mindset. Twitter is the Key to Connecting for FREE with Prospects, Partners, and Peers.
If you missed the Twitter Teleclass, you can now get all the same information at your own pace with this new Twitter For Business Coaches – Get Going Now Tutorial. Suzi Pomerantz, author of Seal the Deal and an MCC coach working with leaders and teams in over 150 organizations during the last 18 years has become the Twitter expert for business coaches, and now you can find out from Suzi how to get quick results on Twitter for your coaching business.
Results you Can Expect from Playing on Twitter:
Free and Powerful Networking
New Clients
Increased Visibility for You
Increased Exposure For Your Services and Products
A Place to Make a Difference and Connect to a Wider Universe of People
A Tool that Aligns with the Mindsets from Seal the Deal
"I finally listened to your Twitter class this week – and it's been very helpful. I now know where to find the people I really want to connect with and am steadily adding people. That has had an immediate affect on more people following me too. So I am finding my way with Twitter! Thank you so much for a great class."
Maria van Hekken, PCC
Leadership & Career Coach
Have you Asked Yourself or Others these Questions about Twitter?
Why Would I Want to Tell People What I'm Eating Right Now, or What I'm Doing This Moment?
Isn't The Premise of Twitter Stupid?
What Can Twitter Do for Me as a Coach and Leader?
What Are the Mechanics of Using Twitter to Build My Business?
What Should I Be Posting?
How Do I Find People to Follow?
How Do I Get Followers and What Would Be of Value to my Followers?
How Do I Sign Up For and Use Twitter?
How Can I Manage My Overwhelm on Twitter?
Who's Got Time For Twitter?! Is This Gonna Take Up All My Time?
What Does Twitter Do That I Can't Do On E-mail?
Can I Do This on my Blackberry or How Do I Get These Posts?
There is Power and Value in Twitter for YOU as a Leader and as a Coach.
Are you leveraging this phenomenal networking vehicle to advance your networking activities? Introverts and extraverts alike can succeed on Twitter!
Right now, at this very moment, there are more than 20 million Twitter-using potential coaching clients across the globe who are looking to hear from you. The best part is, you can communicate with them absolutely free!
Do you know how to reach this global community that is growing by upwards of 10 thousand new people each day? Do you know how to use Twitter to find which of those folks who are prospective coaching clients for you?
What You'll get for your $15:
Immediate download of MP3 file
The same content and information that attendees of the $79 teleclass got, at the leisure and convenience of listening on your own timeframe.
One full hour of tutorial content that will get you up and running on Twitter as quickly as possible!
The pdf of the powerpoint presentation from the teleclass that includes: Explanation of Twitter, Ideas for how to leverage Twitter, How to sign up, What Twitter can do for you, How to connect on Twitter, the basic Twitter Terminology and how to maneuver in Twitter, Ideas for what to post, How to appropriate your time, Applications for Twitter efficiency, links for other information about Twitter, and more!
You'll learn 8 Simple Steps:
how to follow people,
how to send tweets,
how to dm,
how to @reply,
how to RT,
what to tweet,
how to build your follower base, and
how to really get yourself into the party that is Twitter!
The New York Times calls Twitter,
"one of the fastest-growing phenomena on the Internet."
TIME Magazine says,
"Twitter is on its way to becoming the next killer app,"
Newsweek noted that,
"Suddenly, it seems as though all the world's a-twitter."
The Wall Street Journal says,
"Twitter is useful precisely because so many people are talking about different things at once."
Only $15, this kit is chock full of resources and insight on how to use Twitter for YOUR coaching business.  Suzi will guide you through the initial setup of your Twitter account, help you determine who to connect with, and walk you through communicating in the Twitterverse (Twitter Universe)! The audio is in a MP3 format — perfect for your ipod or other MP3 player, or to listen to at your PC. The presentation is conveniently saved in a PDF format. Prepare to profit from the lessons of award-winning, "GAMECHANGER," master executive coach Suzi Pomerantz wherever you are. Don't delay. The time to enhance your game and get in in on the action is now!
Do you find Twitter to be Overwhelming and Complicated?
The problem with Twitter, like most of the new social media tools, is that it is not exactly what I'd call intuitive.  At first it can seem like an exclusive club if you don't know how to interact or do things on Twitter. Then, there are the hidden pitfalls around the etiquette and protocols on Twitter, ethics, manners, etc. How do you find who to follow?  How do you do a tweet or a direct message or an @ reply?  Why would anyone care to answer the question "what are you doing now?"
Suzi created this class to share with you the insight she gleaned during a ridiculous number of hours spent researching, learning, and engaging in Twitter.  She shares best practices that will save you the time and frustration of trial and error and figuring it out as you go.
It can be hard for many talented coaches to grow a coaching business in good times, let alone in a tough economy where prospective clients are budget-conscious and managing costs.  As a business owner, Suzi knows that right now is not a time when we coaches are spending a lot of money for advertising or marketing.  That's why Twitter is the coaches' answer! It is a powerful and effective platform that's a FREE way for you to get in front of people, a FREE way to integrate networking, marketing and sales, and arguably the best free networking vehicle you'll find, with the most potential leverage, impact, and relevance to our work as coaches.
Here are just a few ways Suzi leveraged Twitter to create results in my first three months on Twitter, and she can teach you how to do it, too!
Got great answers and insight when I ask questions on Twitter
Saw a huge increase in traffic to her website in her first 3 months on Twitter, and she can teach you how to do it, too!
People shared her ideas and content with their followers
Learned new things all the time both from links people post and from conversations
She was invited to speak on 3 different radio shows
She interacted with and was posted on the blogsite of MC Hammer
She loved getting news first before it appeared on the Wall Street Journal or on CNN!
She quickly built her following to over 1800 people who wouldn't otherwise be exposed to her or her material
People she met on Twitter bought her book and Rainmaking Made Easy audio product
She had great phone conversations with incredible CEOs and entrepreneurs she met on Twitter
She can directly attribute several thousand dollars of revenue that from relationships made through Twitter!
Get comfortable with the context for Twitter and how to leverage this powerful tool to build your network, expand your visibility, and create ongoing, instantaneous results! You'll be ready to rock after you put Suzi's tips and tricks into action!
Suzi will help you understand the foundation of everything Twitter:
What is Twitter, exactly?
What is the point of Twitter?
What can Twitter do for me and my business?
What results can Twitter produce?
Okay, now that I get it, how do I find people to follow and get followers?
How, when, and how frequently do I use Twitter?
What tricks, tips, efficiency tools and time-savers make Twitter a leveraged tool and not a time-suck?
It is completely safe for you to purchase through this site. We use Google Checkout, which allows you to use your credit cards and is backed by the trusted resources at Google. We will never compromise your security and privacy and we will not spam you!
Safety:
It is completely safe for you to purchase through this site. We use Google Checkout, which allows you to use your credit cards and is backed by the trusted resources at Google. We will never compromise your security and privacy and we will not spam you!