Today, Innovative Leadership International LLC is older than I was when I started the company!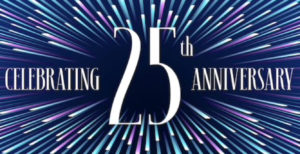 It was May 3, 1993 and I was a frightened, naive 24 year old starting a business coaching leaders who had been in their executive positions longer than I'd been alive.  Gulp.
Fast forward to today, and we are proudly celebrating our 25th anniversary — 25 years of service to executives, leaders, teams and organizations of all shapes and sizes.
To celebrate, below you will find links to the top 25 books we recommend for the leaders we coach, to honor the 25 years we've been in business.
But first, a huge and heartfelt thank you to everyone who made it possible to achieve this milestone! I'm so grateful for all the clients in hundreds of companies and organizations who trusted us with your leadership growth…the joys, the struggles, the chaos, and the victories.  It's truly an honor to serve and support those who are impacting the world through their leadership.  I'm most grateful for the repeat clients and referrals that fueled our 25 years of growth entirely through word of mouth.
Deep appreciation to all the coaches…my dear colleagues who have invited me to collaborate with you on your contracts, and those who have joined my engagements as subcontractors in a spirit of partnership. I value you and the synergies we create together!
And of course, we couldn't bring the magic with out the behind-the-scenes efforts of our back office professionals.  Shout out to our business manager, Tya Bolton, our bookkeeper Amy Bouma, and our tech wizard Russ Miller.  We wouldn't be where we are today without your excellence, thank you!
Leaders and executives often ask me for suggestions about books on various topics that they are facing.  Below you'll find the top 25 books for leaders.  Enjoy!  You may want to bookmark this page for easy access in the future to the list below (Affiliate Links):
1. Power of Full Engagement
2. Blue Ocean Shift
3. The Next Level
4. Legacy Leadership
5. The DNA of Leadership
6. Leadership and Self Deception
7. Creating Women's Networks
8. The Go-Giver
9. Building Trust
10. Drive
11. Powerful Partnerships
12. Business Model Generation
13. The Three Laws of Performance
14. Smarter, Faster, Better
15. Good to Great
16. Creating WE
17. Ask For It
18. The Way We're Working Isn't Working
19. Attitude of Excellence
20. Built to Scale
21. Rise
22. The Inner Game of Tennis
23. Unlocking Leadership Mindtraps: How to Thrive in Complexity
24. Quiet
25. Leadership is an Art
BONUS RECOMMENDATION:
Yoga of Leadership…the secret to sanity in insane times