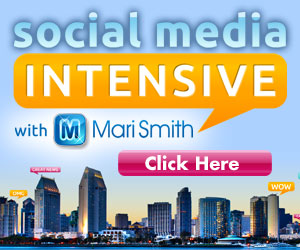 LIVE Webinar with Mari: Free social media "hotseats" & prizes!
DATE: Thursday, August 16th
TIME: 1:00pm PST / 4:00pm EST
FREE Social Media Webinar where Mari (the amazing expert I've mentioned many times before) will be conducting LIVE Facebook fan page critiques and giving away signed copies of her two books: Facebook Marketing: An Hour A Day – Second Edition and The New Relationship Marketing.
https://marismith.infusionsoft.com/go/smi-webinar/a2804
Just for signing up, you will also get instant access to these 3 bonuses:
BONUS #1: How To Build Thousands of Facebook Subscribers – video
Free 30-minute Facebook marketing training video – excerpted from my wildly popular Extreme Fanbase Growth™ course.
BONUS #2: 5 Fantastic Ways To Build A NEW Facebook Marketing Channel … with 250,000 Subscribers! – ebook
This comprehensive ebook goes hand-in-hand with the video in bonus #1. Download this free gift (PDF) and start increasing your reach on Facebook today.
BONUS #3: Mari's 7-part Social Media Strategy for Success
As if the live webinar, bonus video and ebook aren't enough, you'll ALSO receive my new social media tips series! You'll get each tip delivered to you via email over 7 days. Each tip is simple to understand, yet packs a punch. And they are sequential so you'll enjoy implementing the suggestions right away.
Here's what Mari has had to say about it…in her own words:
During this fun and interactive 60-minute session, you'll have a chance to be in the "hotseat" where I will conduct live critiques of several Facebook fan pages and other social profiles. You'll receive valuable, practical tips for instant improvement! Even if you're not one of the lucky hotseat selections, you'll still get a ton of value from the tips I share.

Plus, during our time together, I will be covering a bit more in-depth about what you can expect at the exclusive 2-day Social Media Intensive event coming up on September 13-14 in San Diego. And, there will be plenty opportunity to have your questions answered. (NOTE: the webinar is designed to provide plenty value whether you plan to join us at the Intensive or not, so please do join us this Thursday).

We'll also do a live prize drawing where I'll give away signed copies of my books!

Register here: https://marismith.infusionsoft.com/go/smi-webinar/a2804

I look forward to connecting with you LIVE TOMORROW (on Thursday, August 16th) – you'll see me via webcam (you don't need a webcam to participate), and I'll be sharing my desktop. Get ready to take a ton of notes as I share my best social media tips with you. My live webinars are always hugely popular and I'm known to totally over-deliver!

By the way, if you're not able to join us live, I will be recording this session and will send you the link afterwards. Of course, you do need to attend live to be one of the lucky ones in the social media hotseat and have your Facebook fan page critiqued!

Register here: https://marismith.infusionsoft.com/go/smi-webinar/a2804